Ryan S. Labovitch, M.D.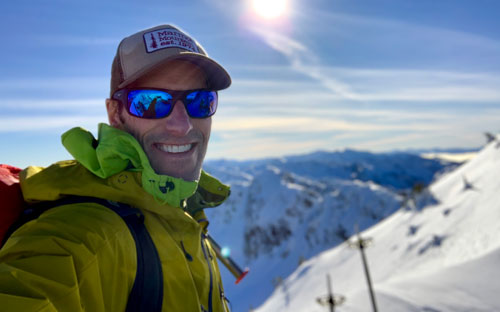 Ryan S. Labovitch, M.D.
Dr. Ryan S. Labovitch is a Board Certified Orthopedic Surgeon who specializes in sports medicine, arthroscopy, general orthopedics, and fracture care. He understands that every patient has a goal when they visit his office, and he takes great pride in helping you to achieve this goal ultimately improving your quality of life.
This website has been designed to introduce you to his practice and be an interactive tool to assist you in each step of your treatment program. It provides comprehensive information on various orthopedic conditions and treatment techniques including surgical diagrams, animated procedures, and videos.
Dr. Labovitch has practiced orthopedic surgery in Newport Beach since 2007, providing quality comprehensive care to patients and the community including many local high school, college, and club athletic teams. He is an active participant and proudly supports many Southern California endurance events. The scope of his practice includes general orthopedic surgery, arthroscopy of the shoulder and knee, sports medicine, and orthopedic trauma.
Dr. Labovitch was born and raised here in Southern California. During his undergraduate years at the University of Arizona, he became interested in orthopedic surgery while volunteering as a student athletic trainer working with NCAA Division 1 college athletes. He attended medical school at the University of Vermont, College of Medicine and completed his orthopedic surgery residency at the University of California, San Francisco.
Dr. Labovitch is fellowship-trained in sports medicine at the Aspen Foundation for Sports Medicine, Education, and Research. While in Aspen, he gained valuable experience treating sports related injuries in addition to providing support for local World Cup US Ski Team and Mountain Biking events.
Dr. Labovitch is board certified in Orthopedic Surgery and he is a member in good standing of the Medical Board of California, Medical Staff of Hoag Hospital, American Academy of Orthopaedic Surgeons, and American Board of Orthopaedic Surgery.
DID YOU KNOW
Dr. Labovitch is a competitive athlete whose interests include mountain/road biking, running, and endurance races. Dr. Labovitch and Kramer Orthopedics are proud sponsors and active members of many local cycling clubs including Corona Del Mar's VELO 6-0-5, Pinnaclife Masters Racing Team, and the Mountain Bike Hall of Fame Laguna Beach Rads. You can catch Dr. Labovitch participating in many local endurance events as well as national events including the Leadville 100 MTB race and the Cedar City Fire Road 100.
Specialties
Board Certified in Orthopedic Surgery
Arthroscopy of the Shoulder and Knee
Sports Medicine, Sports Performance
Orthopedic Trauma
Practice History:
Kramer Orthopedics: – May 1st, 2010 – present
Newport Orthopedic Institute – Oct. 1st, 2007 – April 30th, 2010
Hospital Affiliation:
Hoag Hospital – Newport Beach, CA

– Sept. 1st, 2007 – present

Hoag Orthopedic Institute (HOI) :

2010 – present
Postgraduate Training
2006-2007




FELLOW:

Sports Medicine
Aspen Foundation for Sports Medicine, Education and Research Aspen, Colorado

2002-2006




RESIDENT:

Orthopaedic Surgery
University of California, San Francisco, CA

2001-2002




INTERNSHIP:

General Surgery/Orthopaedic Surgery
University of California, San Francisco, CA
Education
1998-2001




DOCTOR OF MEDICINE


University of Vermont, College of Medicine, Burlington, VT

1990-1995




BACHELOR OR SCIENCE:

Exercise Physiology Cum Laude
University of Arizona, Tucson, AZ
Certification:
2009

– Board Certified in Orthopedic Surgery
Professional Organizations
2009-present

– Diplomate, American Board of Orthopedic Surgery

2001-present

– Fellow, American Academy of Orthopaedic Surgeons

2005-2006

- Health Volunteers Overseas

2005-2006

- Orthopaedics Overseas
Public Service
2005

–

Volunteer Orthopaedic Surgery:

Bedford Orthopaedic Hospital; Umtata, South Africa
Research Experience:
McClure Musculoskeletal Research Center, The University of Vermont: Under the direction of Bruce D. Beynnon, PhD: 1998-2001
University of California, San Francisco: 2001-2006
Aspen Foundation for Sports Medicine, Education and Research: 2006-2007
Publications:
Labovitch RS

, Bozic KJ, Hansen E. An evaluation of information available on the internet regarding minimally invasive hip arthroplasty
J Arthroplasty. 2006 Jan;21(1):1-5
Beynnon BD, Fleming BC,

Labovitch R

, Parsons B: Chronic anterior cruciate ligament deficiency is associated with increased anterior translation of the tibia during the transition from non-weightbearing to weightbearing. The Journal of Orthopaedic Research 2002;20: 332-337
Presentations
Medical Exchange Program: South Africa

. Grand Rounds, Aspen Valley Hospital, Aspen Colorado. June, 2007

The Scapulothoracic Joint: The Anatomy and its Pathomechanics

. Grand Rounds, Aspen Valley Hospital, Aspen, Colorado. November 29th, 2006

An Evaluation of Information Available on the Internet Regarding Minimally Invasive Hip Surgery

. LeRoy C. Abbot Society, UCSF Department of Orthopaedic Surgery, May 11, 2006

Physical Inactivity & Obesity "An American Epidemic"

. Grand Rounds, University of California, San Francisco Department of Orthopaedic Surgery, January 2005

An Evaluation of Information Available on the Internet Regarding Minimally Invasive Hip Surgery

. AAOS National Meeting, Washington DC, Feb 24th, 2005

Biomechanics of Functional Knee Bracing in Anterior Cruciate Deficient Subjects:


Research Day, McClure Musculoskeletal Research Center, Department of Orthopaedics and Rehabilitation, University of Vermont College of Medicine, June 4th, 1999
Refereed Papers Published in Conference Proceedings
Fleming BC, Beynnon BD, Churchill DL, Brown DG, Labovitch R, Steinbruck K, Webster J, Renstrom PA: The Effect of Weightbearing and Bracing in the ACL-Deficient Knee. Presented at the 4th Congress of the European Federation of National Associations of Orthopaedics and Traumatology meeting, Brussels, June 3-8,1999
Beynnon BD, Brown D, Labovitch R, Fleming BC, Churchill DL: The Biomechanics of Functional Knee Braces on the Anterior Cruciate Ligament Deficient Knee. Presented at the International Society of Biomechanics XVII Congress at Calgary, Alberta, Canada, August 8-13,1999
Beynnon B, Renstrom P, Labovitch R, Brown D: The Biomechanics of Functional Knee Bracing on the Anterior Cruciate Ligament Deficient Knee During Non-Weight-Bearing and Weight-bearing. Presented at the 10th European Congress on Sports Medicine, Innsbruck, Austria, September 22-24, 1999
Fleming B, Parsons B, Churchill D, Labovitch R, Brown D, Beynnon B: The effect of Weightbearing on Knee Joint Kinematics in the Anterior Cruciate Ligament Deficient Patient. Presented at the 46th Annual Meeting of Orthopaedic Research Society, Orlando, Florida, March 12-15, 2000
Honors and Awards
2001




Intern of the Year:

Julius R. Krevans award for clinical excellence, San Francisco General Hospital, Univerisity of California, San Francisco

2000




Alpha Omega Alpha:

University of Vermont College of Medicine

2000




Charles & Sylvia Schechtman Prize for Excellence in Clinical Care:

University of Vermont College of Medicine